The Great Estates: In 1882 Joseph Berry, of Berry Varnish and Paint, created the first Grosse Pointe year-round, lakeside residence. By 1910 second generation summer people like Philip McMillan and John Newberry Jr. and auto executives like Henry B. Joy, Horace Dodge, Harry Jewett and Russell Alger Jr. were replacing cottages and farmhouses with eclectic mansions designed by nationally known architects including Detroiter Albert Kahn and New Yorker Charles Adams Platt. Above Provencal, impressive Tudor and neoclassical homes of chemical Ford heirs preceded by more than a decade the Cotswold manor of auto baron Edsel Ford. In the late 1920s new mansions like those of Packard's Alvan Macauley and Hudson Motors' Roy Chapin looked out across broad, landscaped lawns toward the lake. Even in the difficult early 1930s, Standish Backus, Burroughs Adding Machine President, and Mrs. Hugh Dillman, formerly Mrs. Horace Dodge, added grand Lake Shore residences in Grosse Pointe Shores and Grosse Pointe Farms.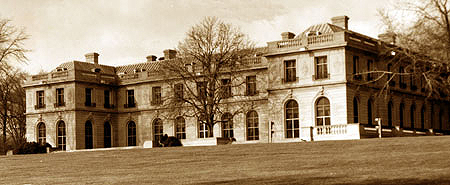 An Exclusive Suburb: By the 1910s, the advent of the car accelerated the development of Grosse Pointe. New inland roads like Oak (now Muir), Notre Dame and Beaconsfield attracted tradesmen, estate workers and village employees while streets like Beverly, Lincoln and Yorkshire lured businessmen and professionals. Estate owners used inland portions of their property for subdivisions like Lothrop and Lakeland; developers replaced farmland with boulevards like Cloverly and Lochmoor. By the 1920s, Windmill Pointe, which William Moran drained in the late nineteenth Century, was providing fashionable building sites. Regardless of location, new homes reflected diverse architectural styles including English Tudor, French Renaissance, Italianate, Georgian, Colonial and Arts and Crafts.
Village Amenities: Although town marshals in 1911 were still rounding up stray cattle near the lake, by 1925 it was illegal for local farmers to sell fresh produce along the shore. Increased population required enhanced services. Roads were paved and maintained by local contractors like Moran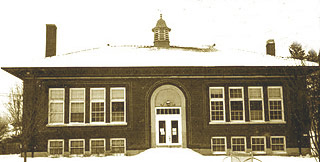 and Teetaert; sewage and waste water pipes were installed. In 1905, the Peninsular Electric Light Company agreed to provide both street lights and drinking water for ten years. By the mid­teens, agreements with Detroit and Highland Park further assured water safety. By 1909 a Home Telephone Co. branch provided phone service on Fisher Road. As part of a new civic center, Albert Kahn designed the Grosse Pointe Shores Village Hall in 1915 and neighboring Vernier School in 1916. When World War I drew young Grosse Pointers overseas in 1917 and 1918, villages had to temporarily curtail community projects.
New Community Institutions: From the turn of the century, affluent Grosse Pointers sought diversion by creating and joining a variety of social clubs. In 1912 community expansion caused the Country Club of Detroit to transfer its golf course to the present location; in 1923 it moved its club house there as well. Preferring to remain by the water, the club's yachtsmen formed the Grosse Pointe or "Little Club".
Riders and polo players created the Grosse Pointe Hunt Club in 1911, while golfers formed The Lochmoor Club in 1917. The Grosse Pointe Yacht Club, begun by ice boaters in the teens, opened its new clubhouse to all yachtsmen in 1929. In 1934 the Crescent Sail Yacht Club leased, and in 1958 purchased, Henry B. Joy's boathouse and docks.
Sensing villagers' need for recreation and social services, estate owners created The Mutual Aid and Neighborhood Club in 1911-1912 and soon opened a club house on Oak Street (now Muir Road). During the 1918 influenza epidemic, they added Cottage Hospital in a village home across from the Club. The two institutions separated amicably in 1927 when new quarters were built for The Neighborhood Club on Waterloo at St. Clair and for Cottage Hospital on Kercheval at Oak.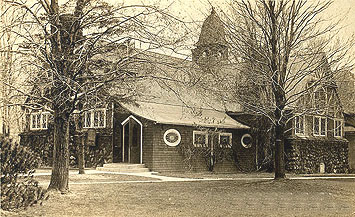 After members of the "Little Ivy-covered Church" became Presbyterian in 1920 and began construction of the present Grosse Pointe Memorial Church, reaction by other Protestant groups was minimal. Aside from the First Christian Reformed Church of Detroit, which followed its congregation from Detroit to Grosse Pointe in 1925, Christ Episcopal Church was the only other major denomination to emerge. Begun as a 1923 mission of Christ Church, Detroit, Christ Church Grosse Pointe dedicated a sanctuary in 1930.
Private and parochial education elicited more response. When a 1914 whooping cough quarantine prevented local children from attending Detroit private schools, the co-educational Grosse Pointe School was opened. Initially located on Roosevelt Place, it moved in 1916 to a new building on Grosse Pointe Boulevard and in 1930 changed its name to Grosse Pointe Country Day School. In 1929 Detroit University School for boys moved from Parkview Avenue in Detroit to Cook Road. That same year, Ste. Clare de Montefalco opened its parochial school on Mack, and the Reformed Church started the Grosse Pointe Christian Day School on Maryland.
Grosse Pointe Rural Agricultural School District #1: In December 1921 Grosse Pointe's five township school districts combined to ensure development of new grade schools and a local high school. Defer Elementary School was completed in 1923, and by 1924 Cadieux School housed both elementary and high school students. Trombley in Grosse Pointe Park moved to its present location in 1927, while Mason in Grosse Pointe Woods was added in 1929. When a new Grosse Pointe Blvd. high school was proposed, residents' opposition to its size and location resulted in a law suit. However, the School Board prevailed, and the new building opened in February 1928.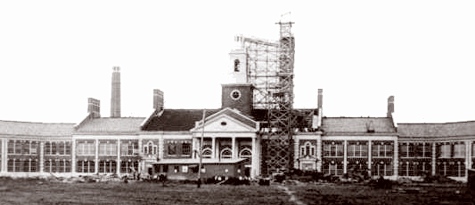 Though the "Little Ivy-covered Church" sponsored a small lending library in the late nineteenth Century, Grosse Pointe had no public library until Wayne County opened a branch at the Grosse Pointe Shores Village Hall in 1922. In 1926 a second "station" was added at the Neighborhood Club, and in 1929 local libraries became a division of Grosse Pointe's public school system.
Grosse Pointe Commerce: Though frequent shoppers in downtown Detroit, Grosse Pointers looked to neighborhood groceries and confectionaries for occasional purchases. By the mid-1920s, The Village supported active businesses such as Piche's Barber Shop, Notre Dame Pharmacy and McMillan's Market. The community also had several local commercial greenhouses including the Grosse Pointe Florist founded in 1926. As commerce expanded, inhabitants grew concerned about maintaining the area's residential character. A 1927 Grosse Pointe Park Protective Association spurred the Grosse Pointe Park Council to pass zoning to prevent the building of a home for "aged persons of refinement." During the next year, the other Grosse Pointes passed related ordinances.
A Detroit-Windsor Connection: By state law, Michigan became "dry" in May 1918. Passage of the 18th Amendment in 1919 and the Volstead Act soon after forbade the
sale of alcoholic beverages nationally and set rules for enforcement. Nevertheless, smuggling from Canada, which allowed production and limited sale of liquor, went on along the shore. Estate docks were favorite landing sites for rumrunners. Grosse Pointe also had its share of family blind pigs and roadhouse speakeasies. Gang warfare was sometimes too close for comfort as when police investigating a "hit and run" in front of their station were shot by bootleggers. A recently published book, Images of America: Grosse Pointe 1880 -1930, provides a graphic and per­sonalized view of the preceding periods.
The Depression: Despite the 1930s economic downturn, vacant lots in Grosse Pointe Park, Village, Farms and Shores were becoming scarcer. Much of the new home construction had been done by skilled craftsmen of Belgian or other old world origin. With the deepening recession, however, some houses stood unfinished while others were scaled back in size. President Roosevelt's 1933 bank closures precipitated a cash crisis with unusual local results. A Councilman had to lend money to one village to meet its payroll. Occasionally, according to Board of Education Minutes, Superintendent Samuel Brownell bought produce from local farmers to distribute to school staff in lieu of paychecks. As people struggled to remain self-sufficient, Village Councils granted many licenses to sell eggs, wood and produce door-to-door. Federally funded projects to enclose the Black Marsh Ditch in 1929, to build the Grosse Pointe Farms Filtration Plant in 1930 and to expand Lake Shore Road in 1931-1932 provided work for many in the community. Federal Civil Works Administration funds helped to build Maire Elementary School in 1936 and Pierce Junior High School in 1939.

Even in difficult times, Grosse Pointe continued to grow. For economic reasons, the Village of Grosse Pointe became the region's first city in 1936. Its full-fledged commercial center, known as The Village, grew increasingly popular. The community's first movie theater, the Punch and Judy, opened to much fanfare on The Hill in 1931. That year, the Village of Lochmoor annexed the Stanhope-Allard strip and in 1939 changed its name to Grosse Pointe Woods. In 1940, The Grosse Pointe News joined The Grosse Pointe Review as a local newspaper.
World War II Era: From 1941-1945, World War II affected every aspect of local life. The Neighborhood Club became a community support center, sending soldiers off to war and providing USO activities. Grosse Pointers assumed demanding positions in wartime industries, government and military.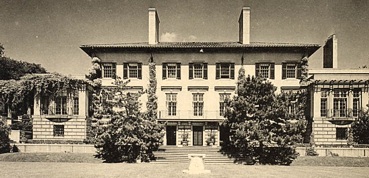 Women like Alice M. Scheaffler, who was elected to the Board of Education from 1942-1954, filled a wider range of jobs than ever before. At the 1950 dedication of Alger House as the Grosse Pointe War Memorial, a plaque commemorated 120 casualties from among Grosse Pointe's 3,600 men and women who served in the conflict.

Wartime regulations hampered the development of The Village and the upper portion of The Hill. Local churches, founded in the 1930s and early 1940s could not obtain materials or workmen to build sanctuaries and had to meet in schools or other public places. A convalescent facility opened by the Sisters of Bon Secours in 1938 on Cadieux Road did not became a full service hospital for seven years. In 1941 Grosse Pointe Country Day School for girls, though retaining its campus, combined administratively with Detroit University School for boys.