The story of Stonehurst and the Schlotman Family begins with Captain John Baptiste Ford, brilliant entrepreneur, industrialist and founder of one of America's great family fortunes.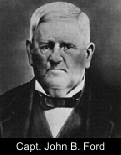 Capt. Ford was born on November 17, 1811 in a log cabin in Danville, Kentucky. His father left to fight the British forces at New Orleans in the War of 1812 and never returned. At age 12, John was apprenticed to an abusive Danville saddlemaker. He ran away two years later to Greenville, Indiana and remained there for the next 30 years. In 1831 he married Mary Bower who taught him reading, writing and mathematics.
Together they opened a small dry goods store and then a saddlery shop which supplied the US Cavalry during the Mexican-American war. He also operated a local flour mill.
After selling the interests in Greenville in 1854, the Fords moved to New Albany, Indiana. There Ford established several new ventures including an iron mill and foundry. He also built a boatworks and operated a fleet of riverboats. His success earned him the appellation of "Captain" Ford.
John and Mary Ford had several children but only two survived, sons Edward and Emory. It was Emory who first got his father interested in the potential of the glass making business. The other ventures were soon sold and J.B. Ford & Sons glass manufacturing was established. This company failed in 1872 however, because of financial difficulties.
In 1881, at age 69, Capt. Ford founded a new glass company in Creighton, Pennsylvania. In 1883 this company was reorganized as the Pittsburg Plate Glass Company. Others had previously had tried to compete with European plate glass makers but failed. PPG became the first financially successful U.S. plate glass manufacturer. By producing high quality glass at a lower price than their European competitors, PPG virtually ended the importation of European glass. The company was also the world's first plate glass plant to fuel melting furnaces with locally-produced natural gas.
Sons Edward and Emory Ford, who held the positions of President and Treasurer respectively, sold their interests in PPG in 1897 after a disagreement with partner, John Pitcairn. They went on to establish the Edward Ford Plate Glass Company in Ohio. This firm merged in 1930 and became Libbey-Owens-Ford.
The Ford business interests were extensive and went beyond glass manufacturing: In 1893, Ford established the Michigan Alkali Company in Wyandotte, Michigan. The site was chosen for its proximity to resources needed to produce soda ash, a primary ingredient in glass making. Water from the Detroit River was used to extract salt from the deep strata running beneath the site. The salt was combined with limestone to produce a variety of sodium-based industrial and consumer products. The limestone came from company-owned quarries in Alpena where the Fords also owned the Huron Portland Cement Company. In connection with these operations, they operated a large fleet of freighters.
In 1943, Michigan Alkali became Wyandotte Chemical Corporation which in turn became part of BASF in 1969. Huron Cement was eventually sold to National Gypsum Corp. for $72,000,000 in stock.
Additionally, not long after the death of his wife in 1897, Capt. Ford also sold his PPG shares to Pitcairn and at age 86, formed yet another business - the Ford City Potteries. This venture was sold and became part of Eljer Company. Capt. Ford died on May 1, 1903 and is buried in Pittsburgh.
The immense wealth generated by all of the Ford family interests allowed the descendants of Capt. Ford's sons to join with Detroit's wealthiest families in erecting great estates along the shores of Lake St. Clair in Grosse Pointe. And Stonehurst, built by Emory Ford's daughter, Stella Ford Schlotman and her husband, Joseph, stands out as one of the finest of the many magnificent homes that once graced our shoreline. This online exhibit provides a unique opportunity to once again see the house and its opulent interiors and to learn more about the Schlotman family relations and view their yacht, the "Stellaris."