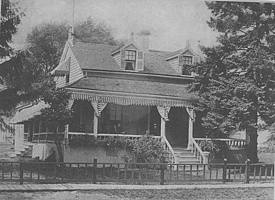 Two summer cottages have been erected just beyond by Mrs. Judge Weir, nee Provencal. The Provencal house standing on front of the farm, near the lake, is a good example of the old-time French home. It is usually occupied in summer by Judge Weir and family.
The Beaufait farm adjoins, followed by the Kearsley or Webster farm; and then, a short distance beyond the eleven mile post from Detroit, is located "Claireview," owned by George S. Davis, of Detroit. The grounds of the residence proper have 1,400 feet frontage on Lake Ste. Claire, and run back 1,000 feet. On the eastern part of this lot and a little distance from the road, is located a modest dwelling, surrounded by a fine orchard, which includes two large French pear trees. In the rear of the residence is located "Claireview Jersey Stock Farm," elsewhere alluded to. The farm has a depth of over two miles, and contains 281 acres. Mr. Davis, a native of Detroit, is the executive officer in charge of the extensive laboratory of Parke, Davis & Co., Detroit. His business ability and social qualities give him a large place in the esteem of those who know him. He does not at present occupy Claireview, but, judging from his well known taste in floriculture and landscape gardening, he will, no doubt, in the future render it as pleasing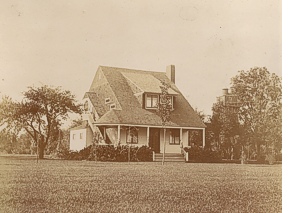 to the eye as are other residences at the Pointe.
Several farm houses and a summer resort known as "Gray's," are here passed; beyond which we come to the handsome residence and farm of Dudley B. Woodbridge. Mr. Woodbridge is a son of Gov. Wm. Woodbridge, who so well served Michigan both as Governor and Senator. Governor Woodbridge studied law at Litchfield, Conn., and began practice at Marietta in 1806. He married Julianna, daughter of Judge John Trumbull, of Connecticut, widely known as the author of "McFingal." Governor Woodbridge came to Detroit in 1814, under appointment as Secretary of the Territory. For many years he was a prominent social and political factor in the city and State, remarkable for his courtesy, kindness and generous impulses. Dudley B. Woodbridge, the owner of Belle Meade, settled at Grosse Pointe in June, 1866, hoping thereby to recuperate his health. By constant out-door life, both winter and summer, he has succeeded in accomplishing the desired result. Though a descendant on both his father's and mother's side from families of political prominence, his delicate health and retiring disposition have prevented him from engaging in public affairs.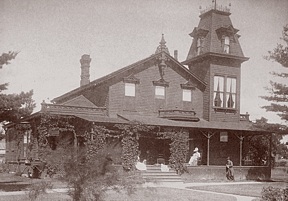 His time is given to the care of his farm and the management of that portion of the large Woodbridge estate in Detroit, which he inherited. Both Mr. Woodbridge and his wife, Martha J., are natives of Detroit, - her ancestry, like his, living in New England. They have had four children. The eldest, Mary Lee, died at the age of twelve. The names of the others are Mattie Kitchell, Julia Smith, and Eva Cary.
We have now mentioned all or nearly all the families of the Grosse Pointe Colony. At present they are few in number, and meet socially almost as a single family. As time flows on, and a larger settlement grows up, all alike will be sure to be interested in the history of its beginning.
If in the future some enterprising resident succeeds in having a straight and well kept road laid out a half mile back from the lake, the present winding drive being used for pleasure purposes only, with the places above described thrown into a single grand park, Detroit will have a suburb of which she may well be proud, and which may perhaps be worthy of some such appellation as "Clairepointe."