The old French farm house on the corner of the Morass Road, which here intersects the lake road, is occupied by Chas. G. Moran. The next residence with a broad veranda is owned by W. B. Moran. Nearly ten acres surround the house, and they are being carefully improved. The lawn which inclines gradually to the road is one of the finest at the Pointe. The place is appropriately called "Bellevue." Its owner is also the owner of "Maplehurst," a few miles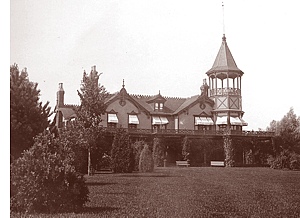 further on, and possesses, besides, several large farms along the Grand Marais. He is a son of the late Judge Charles Moran, of Detroit, one of the early French settlers whose shrewdness and sagacity led him to hold on to his Detroit farm through all sorts of stringent times until a great city had been built up around it. Long before his death it had become one of the most valuable estates in the city. Wm. B. Moran was educated at Fordham College, N. Y., is, by profession, a lawyer, and is connected with several important manufacturing companies. He takes much interest in municipal affairs, and notwithstanding many professional and business cares, finds considerable time to devote to his duties as one of the Park Commissioners. He has recently been chosen City Controller. He first married Elise Desnoyer Van Dyke by whom he had one daughter, Catherine Marie. For his second wife he married Frances Agnes Desnoyer, daughter of the late Peter Desnoyer, and old and prominent French resident of Detroit. They have two sons, Wiliam Aloysius, and Henry Desnoyer. Visitors who enjoy the hospitality of this place, should not fail to notice the exquisite collection of roses under the especial care of the lady of the house.
We next see the grounds and residence of Theodore Parsons Hall. This place consists of sixty-three acres, about fifteen of which are devoted to lawn and garden, twenty-five to pasture, the remainder is natural forest. The visitors can drive through the grounds, coming out on the main road a short distance above. The place was originally one of the farms belonging to Commodore Grant, and fifty acres of it were purchased by the present owner from one of his descendants.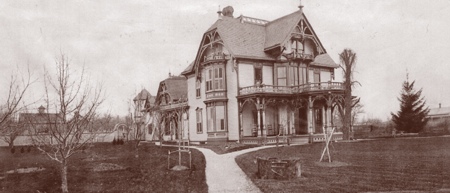 A portion of the grounds was laid out over twenty years ago by M. F. Dow, of the Detroit Savings Bank, whose wife was a sister of Mrs. G. V. N. Lothrop. Edward Mason, son of L. M. Mason, former President of the Farmers' and Mechanics' Bank, and his family made it their home for a number of years. Mr. Hall bought Mr. Mason's interest in 1880, and under the superintendence of the accomplished architect, Mortimer L. Smith, the present residence was erected. The very old orchard on the ridge back of the house contains trees dating back to 1815. In the front portion many select varieties of ornamental trees have been planted within the past five years. A willow of enormous size stands just above the house and near the road. On the lake side is a spacious boat-house built in Swiss style of architecture. Here dancing parties, theatricals and other evening amusements take place. A fine beach has been rescued from the lake, and on it stands a rustic grotto enshrining a statue of Notre Dame de Sainte Claire, commemorating an old tradition described in the "Legends of Detroit." Mr. Hall was born near Hartford, Conn., in 1835. His father, Samuel Holden Parsons Hall, of Binghamton, N.Y., was for many years a prominent whig politician of that state, and grandson of Maj. Gen. Samuel Holden Parsons, one of the founders of the Marietta Colony, and first Chief Judge of the Northwest Territory.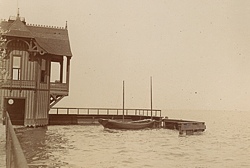 Mr. Hall graduated at Yale in 1856, and came to Detroit from Wall Street, new York, as cashier of the old State Bank of Michigan. He still retains a business connection with his friend Rufus W. Gillett, one of Detroit's most valued citizens. He married, in 1860, Alexandrine Louise Godfory, daughter of Pierre Godfroy, and granddaughter of Col. Gabriel Godfroy, whose father was one of the founders of Detroit.
Their children are Marie Stella (wife of Wm. T. St. Auburn), Josie E. (wife of Lieut. R. J. C. Irvine, U. S. A.), Nathalie Heloise, Alexandrine Eugenie, Marie Archange, Madeleine Macomb, and Godfroy Navarre, who died in 1885. The place is called "Tonnancourt," after the seigneury of Godfroy de Tonnancourt on the St. Lawrence near Trois Rivieres, Canada.
The farm next above is owned by Alexander Lewis, a wealthy and highly esteemed resident and ex-Mayor of Detroit. He is of French parentage, the name being originally St. Louis. Mr. Lewis, though owning much land at the Pointe, cannot be classed as a resident, and has only a farmer's house erected on his property, but it is hoped and expected that some of his family will eventually build a summer residence.