MY JOURNEY By Victoria Slater
GPHS 2008 Summer Intern

A Student's Historical Perspective of Pierce & Brownell Middle Schools and Grosse Pointe South High School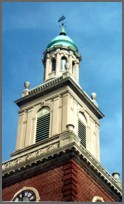 Introduction Researching this project was more difficult than I originally anticipated. I had to figure out where my love of Grosse Pointe history began. I couldn't find the answer in any newspaper article or buried under a stack of photographs. I had to go back deep in my memory, through countless math formulas and memorized pieces of music. It was an answer that I could not find in school books, but on the streets of Grosse Pointe.
I became fascinated with every house on every street in Grosse Pointe. It became clear to me that every house had a story. I wondered who wrote those stories, but even more I wanted to read those stories.
The Grosse Pointe Historical Society gave me the privilege of reading those stories. As an intern at the Alfred B. and Ruth S. Moran Resource Center, I have gained a better understanding of exactly how exciting Grosse Pointe actually is. I have learned that the people who have lived here made their mark on the land and its history. I have learned that our city is something to be proud of, protected and enjoyed.
During my internship, at the Grosse Pointe Historical Society, I was fascinated with how Grosse Pointe went from illiteracy to formal learning. The Grosse Pointe Historical Society Museum was once the residence of Pierre Provencal. In the mid 1830s, Provencal built a small schoolhouse on the back of his residence on his farm which was located near Lake St. Claire. Most of the French Ribbon farmers that lived along Lake St. Clair did not have any formal education. But they were influenced by Father Gabriel Richard and his notable undertakings. Richard often said mass in the home of Pierre Provencal in Grosse Pointe.
I hope you enjoy this exhibit which focuses on the schools that I have attended... My next step? Hopefully I will be accepted into the University of Michigan, an institution that Father Gabriel Richard helped to design.