Bronze Historic Plaques
View an exhibit of Past GPHS Bronze Historic Plaque Winners.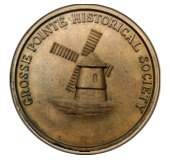 Since 1986, the Society has been annually awarding historic plaques to Grosse Pointe landmarks to recognize their historical or architectural value to the community, to encourage their continued preservation, or to recognize the value of adaptive reuse.
The bronze plaques, designed by J. William Gorski, bear the image of the Society's logo, a French windmill that stood on the shores of Lake St. Clair in the 1700's. They are 8 inches in diameter and weigh five pounds.
If you would like to submit your property for consideration for a Grosse Pointe Historical Society plaque, please mail a one page background information sheet describing the property along with a current photo and a contact name, address and phone number to us at:
GPHS Resource Center
381 Kercheval Avenue - Suite 2
Grosse Pointe Farms, MI
48236-3085
Historic Site Evaluation Criteria
Significance in Grosse Pointe history
Is the property associated with events that made a significant contribution to our history?
Is the property associated with the lives of persons significant to our past?
Significance of the architect and architecture
Does the property possess high artistic value?
Does it represent the work of the architect?
Does the property embody distinctive characteristics of a period or a type of construction?

Significance of the historical information yielded from the property
The property should be over 50 years old
J. William Gorski, (Bill) was born in Grand Rapids, Michigan. He moved to Detroit in the early 1950's and worked at Budd Wheel while taking classes at the Center for Creative Studies. He then moved on to Fisher Body as a metal model maker in 1955. Bill joined the GM design staff in 1974 as a design sculptor and retired in 1987.
In 1977, Bill got the genealogy bug and by 1981 became editor of the Polish Genealogical Society of Michigan. Bill took the "Eaglet" the society's newsletter and, in one year's time, turned it into a journal. While editor, he traveled Michigan's eighty three counties to gather anything that was Polish.
By the year 2002 Bill had built a very large Polish collection covering Michigan and Ontario, Canada, which he gave to the library & archives of Michigan in Lansing. He has won many awards in Michigan for his hard work on Polish history which can be enjoyed by many for years to come.
Bill Gorski is also a past board member of the Grosse Pointe Historical Society.