The shop is open Second Saturdays of the month from 1 - 4pm and by appointment. And remember, with your membership, you are eligible for a 10 percent discount. Just ask for it at the cash register.
Featured items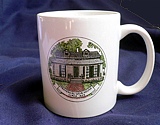 Provencal-Weir House Coffee Mug


Enjoy your favorite beverage in our beautiful ceramic mugs featuring the Society's Provencal-Weir House logo. $7 each - a set of 6 for $35.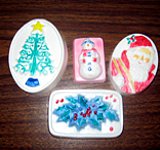 Christmas Soaps


La Belle's Christmas Soaps. $1.00-$2.50 each. These scented, goat's milk soaps are wrapped in cellophane & tied with a pretty bow. These lovely little soaps are great hostess gifts.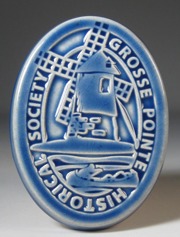 Pewabic Tile


The GPHS introduces its brand new limited edition commemorative Pewabic tile of Grosse Pointe Park's Windmill. This unique oval tile measures 3 ¾" x 4 ¾" and is ready to hang. Its translucent blue glaze is reminiscent of the sky with our beautiful Lake St. Clair.




Cook School House Ornament


This newest ornament, third in a series, continues our limited edition ornament measuring 3" in diameter. It is hand painted and has a description on the back. It will be a beautiful addition to the Joy Bells and Provencal-Weir House ornaments as a collection.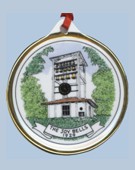 Joy Bells Ornament


This lovely ornament of the Joy Bells is a limited edition, second in a series measuring 3" in diameter. It is hand painted and has a description on the back. It's a beautiful addition to the GPHS ornament collection.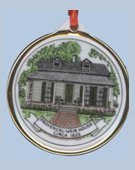 PW House Ornament


This lovely ornament of the PW House is a limited edition, first in a series ornament measuring 3" in diameter. It is hand painted and has a description on the back. It's a beautiful addition to your home.





The Shop Mascot


For our younger audience we have our lovable, plush, soft squirrel named "Peanut" who is nuts about the Grosse Pointe Historical Society.




Our Black Squirrel


Our little black squirrel dons a pink and green ribbon saying "Grosse Pointe Native Squirrel."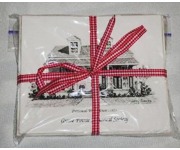 PW House Note Cards


8 beautiful note cards (4 ¼" x 5 ½") in a set of this pen and ink drawing of the Provencal-Weir House.



2015 Calendar


Our 2015 calendar showcases 12 images of previous Pointes of History Awards given to Grosse Pointe residents, business owners and public buildings.
Vintage Toys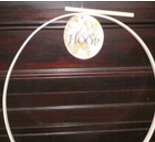 T

he Rolling Hoop is made of solid native hardwood, is 28" in diameter by 1 1/2" wide and 1/4" thick. A dowel is included as a rolling stick, as well as a history card. This well constructed toy encourages exercise and balance.

The Game of Graces has two 10" diameter solid wood grace hoops, packaged with 4 tapered 22" solid wood wands and 8 lengths of colored ribbon in a poly bag, with history and instructions. This game was meant for proper young ladies back in the day. It promotes exercise, coordination and is enjoyed today by boys and girls.
Stocking Stuffers


Want to get your children off the video games? Our wooden toys are a perfect gift for them. These classic toys include the Buzz Saw, Jacobs Ladder, Pick-Up-Sticks, Spinning Tops, Wooden Yoyos, Jacks and Whistles. These affordable gifts encourage creative thinking, help develop coordination, dexterity and are a lot fun.

Books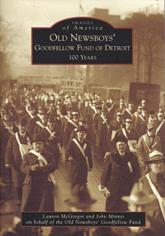 Our books focus on local history and fiction with a local setting. They include Murder in Grosse Pointe and Treasure in Grosse Pointe, Grosse Pointe Then and Now, Remembering Hudson's, and more...

New! G. P. Magazine publisher John Minnis and editor Lauren McGregor have just come out with their book, Images of America Old Newsboys' Goodfellow Fund of Detroit: 100 years.

The Old Newsboys Fund was created after a cartoon drawn by Tom May titled "Forgotten" was published in the Detroit Journal. Depicting a poor child who received nothing for Christmas, James J. Brady along with other key Detroit businessmen vowed they would do anything they could to prevent this happening to any Detroit child. The Old Newsboys Fund was established in 1914 and continues to this day to assist in giving all children and wonderful Christmas.