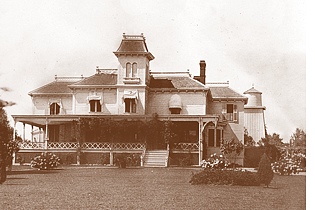 The next residence is Otsikita Villa, the home of W. K. Muir. For several seasons prior to 1882, Mr. Muir summered at Grosse Pointe, but in the year named, he decided to become a permanent resident and purchased the property, and rebuilt the residence which he and his family now occupy. The grounds in front, and the extensive gardens and orchards in the rear, are models of good taste, care and attention. Their owner, Mr. Muir, was born at Kilmarnock, Ayrshire, Scotland, in 1829, and is descended from the family of Howies, old Scotch covenanters. In early youth he showed a taste for engineering, which later on led him into the business of railroading. Acquiring his first practical railway experience on one of the English railways, in 1852, he was selected by C. J. Brydges, managing director of the Great Western Railway of Canada, for a responsible position on that line. In 1857, he was appointed General Superintendent of Detroit and Milwaukee Railroad. In 1865, he was made Assistant General Superintendent of the Michigan Central Railroad with R. N. Rice as General Superintendent. He next became the General Superintendent of the Great Western Railway of Canada, and was influential in making it one of the most complete lines on the continent. Subsequently he became Manager of the Canada Southern Railway. After retiring from the management of the Canada Southern, Mr. Muir's great executive ability caused his services to be sought for by railway magnates in various parts of the country, but he has refused to undertake further responsibility of this nature. He now devotes much time to a number of important manufacturing enterprises, and to several lines of steamers in which he is interested.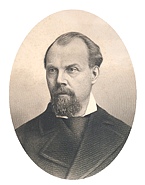 By nature one of the most philanthropic of men, every practical scheme for the benefit of the poor receives his cordial support and personal attention. Thoroughness, frankness and honesty, are his prominent characteristics. The maiden name of Mr. Muir's first wife was Eliza Steele. They had four daughters, vis.: Jennie Howie, Nellie Hogarth (wife of Henry Russel), Isobel Ker (wife of Wetmore Hunt), and Eliza Steele, wife of Bethune Duffield. For his second wife he married Christina Hendrie, daughter of John Hendrie, of Scotland, and sister of George Hendrie, of Detroit. Their two children are, William Howie now taking the engineering course at Ann Arbor, and Christina Hendrie.
The residence next appearing is conceded to be one of the most attractive at the Pointe. The grounds were laid out by the former owner, Thomas Pitts, in 1873, after English designs, and the good taste then displayed in arranging the trees and shrubbery is now apparent. The property was purchased by its present proprietor, Henry A. Newland, in 1884. It has since been much improved, and is known as "Bellehurst."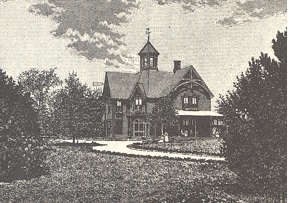 The quality of the strawberries and other small fruits raised on this place, is something of which to boast. The grounds comprise about 25 acres, including a handsome grove in the rear. Mr. Newland is the senior partner in the wholesale Fur House of H. A. Newland & Co., of Detroit, and was born at Hammondsport, N. Y., in 1835. Coming to Detroit in 1854, he engaged with the firm of F. Buhl & Co., and was admitted as a partner in 1858. His specialty was in the foreign business of that house, his duties obliging him for nearly a score of years to attend the annual fur sales at London and Leipsic. From the beginning of this mercantile career, he has been both popular and successful. He knows how to be courteous and affable, and is esteemed accordingly.
In 1862, he married Emily A. Burns, daughter of James Burns, one of Detroit's oldest and most highly esteemed merchants. She died in 1871, leaving one daughter, Lizzie Helen. Two other children, Frederick Burns and Emily A., died in infancy. Mr. Newland married for his second wife, Martha Alger Joy, daughter of James F. Joy, of Detroit. Their son, James Burns, died when about three years old. They have a daughter named Mary Joy. Mrs. Newland's father, James F. Joy, is the widely known railway magnate and lawyer. The Alger family, whose name Mrs. Newland bears, are descendants of Thomas Alger who settled in Taunton, Mass., in 1665. Martha Read, the first wife of Hon. James F. Joy, was a daughter of Hon. John Read, LL. D., and Olive Alger. Mr. Read was Lieutenant Governor of Massachusetts, and for twenty-four years a member of Congress.