The residences of Messrs. Newberry and McMillan located at this point, are both built in the same general style of architecture. A conspicuous feature of the grounds is the handsome row of rare arborvitaes that lines the carriage drive.
| | | |
| --- | --- | --- |
| | | |
| John S. Newberry | | James McMillan |
The owners of Lake Terrace were the first to build costly houses at the Pointe, and their success in constructing elegant, graceful and convenient country seats, induced others to follow their example. In conjunction with their neighbor, Mr. Brush, they built the long dock that stretches out into the lake. This dock affords a convenient landing place for their steam yacht, Truant, for the Lillie, belonging to Alfred E. Brush, and for the Leila, owned by a dozen other residents. The owners of the yachts, Truant and Lillie, take great pride in keeping everything about them in the most perfect order. At early morn the crews begin holystoning the decks, and the ornamental brasses are rubbed until they glisten. In neatness and comfort these yachts will challenge comparison with anything of this kind on the Atlantic coast.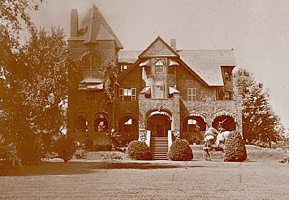 John S. Newberry, who lives in the first of the larger residences on Lake Terrace, was born at Waterville, Oneida Co., N. Y., and is the son of Elihu and Rhoda Phelps Newberry, natives of Windsor, Conn. The family trace their ancestry to Thomas Newberry, who emigrated from England in 1635, and settled at Dorchester, Mass. Mr. Newberry prepared for college at Romeo, Michigan, entered the University at Ann Arbor, and graduated at the age of eighteen. For the two years succeeding he was engaged in civil engineering under Col. John M. Berrien, engineer of the Michigan Central Railroad. Not relishing this employment, he fitted himself for the bar, to which he was admitted in 1853. Determining to make the admiralty business a specialty, he devoted himself to this branch of his profession, and was soon conceded to be one of the first admiralty lawyers in the West. In 1862, he joined his friend Jas. McMillan in the establishment of the Michigan Car Works. This industry grew to mammoth proportions, and with the enterprises growing out of it has realized fortunes for its projectors. Mr. Newberry has generally refused to accept public office, but made an exception a few years ago when he was elected to Congress by the Republican party, of which he is a staunch adherent. He is a gentleman of strong will and positive views, and has worked his own way to the prominent position he occupies. Dependence may be placed on his having a pretty thorough knowledge of any subject on which he expresses an opinion. His studies and extensive practice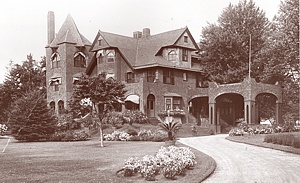 in admiralty cases gave him such knowledge of marine matters that, with large means, he naturally took to yachting as a favorite amusement, and, as a result, many of his friends have derived much enjoyment from his skillful pilotage, as he has personally guided the "Truant" over the river and lake.
His first wife was Harriet Newell Robinson; she is the mother of his eldest son, Harrie Robinson Newberry, who married Miss Harriet Dudgeon, daughter of the late Anthony Dudgeon, of Grosse Isle. They have one child, Gladys Dudgeon Newberry. Harrie is Secretary and Treasurer of the Detroit Steel & Spring Works; has served as a member of the City Council, and is known among his associates as a most agreeable and genial companion.
The second wife of John S. Newberry was Helen P. Handy, daughter of Truman P. Handy, a well known financier and banker of Cleveland. Their eldest son, Truman Handy, graduated at Yale in Sheffield scientific school in 1885. The remaining two children are John S. jr., and Helen H.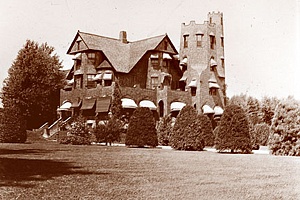 The next residence on Lake Terrace was built and is occupied by James McMillan. He was born May 12, 1838, at Hamilton, Ontario. His father, William, and his mother, Grace McMillan, were both natives of Scotland, and settled in Hamilton in 1834. His father was, for many years, connected with the Great Western Railway of Canada, and was held in high esteem for his strict integrity and superior business qualifications. James McMillan was fitted for college at Hamilton, but impatient of fleeting time, and anxious to make his mark in the world, he embarked in business at an early age. His first experience in Detroit was as a clerk in the extensive wholesale hardware establishment of Buhl, Ducharme & Co. At the age of twenty years, he left that position to become the purchasing agent of the Detroit & Milwaukee Railway. His aptitude attracting the attention of an extensive railway contractor, he was placed in charge of his very important interests in Michigan, and the experience acquired in this new position was of inestimable value in his future career. About this time he made the acquaintance of John S. Newberry and a partnership was formed with the favorable results already indicated. Doubtless the sound business judgment inherited from his father, coupled with his innate urbanity, has had much to do with the success of their various enterprises.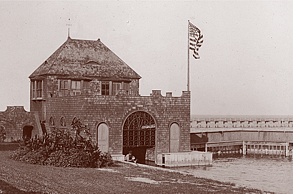 Mr. McMillan has fairly won the esteem of his fellow citizens by his gifts of personal service as well as means in the promotion of philanthropic enterprises, and by his far-seeing and liberal investments in building up and improving various portions of the city. If, of advantage to him, his investments have been none the less a great public gain in the architectural attractions added to Detroit.
In 1860 he married Mary L. Wetmore, daughter of Charles Wetmore, of Detroit, a descendant of the old and widely known Connecticut family of that name. They have had six children, as follows: William Charles, Grace Fisher (now Mrs. W. F. Jarves, James Howard (now at Yale), Amy, Philip Hamilton, and Frank Davenport.