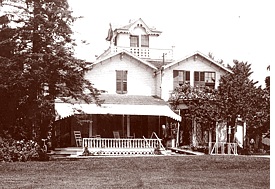 Next comes the pretty summer home of Theodore H. Hinchman, one of Detroit's oldest and most highly esteemed merchants. Mr. Hinchman was born in New Jersey, in 1818, and came to Detroit in 1836. His connection with and management of a wholesale House for half a century, has resulted prosperously; and, to the advantage of the public, he has given much time to municipal affairs, serving as State Senator, Fire Commissioner, and in other positions, fulfilling the duties implied in good citizenship. Not averse to fishing, shooting, and other sports incident to life on the lake shore, he usually spends a few months of each year at the Pointe. Mr. Hinchman married Louise Chapin, daughter of Dr. Marshall Chapin. The names of his children are, John M., Ford De Camp, Charles Chapin, Lilly and Mary. He is one of the older "colonists," and his residence was built in 1862.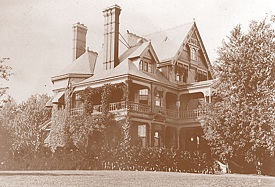 The beautiful and well kept grounds called "Edgemere" the residence of Joseph H. Berry, next attract attention. The house, constructed of pressed brick and cut stone, is one of the finest at the Pointe, and is most charmingly situated. The lawn inclines gradually to the water, which is reached by a flight of stone steps, bordered by handsome vases filled with tropical plants. The front is protected by a substantial sea wall. A spacious boat-house is well provided with choice specimens of boats. A steam engine forces water over the whole place by means of underground pipes, and an extensive conservatory supplies flowers at all seasons. From its situation, the residence has, necessarily, two fronts; the main front, presenting from the water a most attractive and imposing appearance. A glimpse of the other front, hardly less beautiful, and of the flower beds scattered over the lawn, is to be had through dense masses of fine old trees.
In the construction of the building, Mr. Berry, who resides here the year round, gave full scope to a refined taste, and the finish and decorations of interior and exterior, do great credit to both owner and architect.
Mr. Berry's family consists of his two sister, Adelaide H. and Sarah W., and his three daughters, Charlotte F., Alice D., and Lottie D. Mr. Berry is of English descent, but was born in New Jersey. He married Charlotte E. Dwight, daughter of Alfred A. Dwight. She died in 1875.
The picturesque cottage on the Berry property, which is the last dwelling on the lake side of the road, and known as "Loch Side," is leased to his intimate friend, Alex. H. Muir, a brother of W.K. Muir, and, like him, engaged in the railway and transportation business. Mr. Muir has many friends and is sure to increase their number as opportunity offers. He married Isadore, daughter of A. C. McGraw She died in 1884, leaving four children, Susie, Alexander McG., Helen, and Philip Howie.